<![if !vml]><![endif]>
Short-cuts
Through this feature the users can create shortcuts to access the programs quickly by hitting the ALT key and any letter. In this way there is no need to navigate throughout the menu, just press the Alt key along with the selected letter and you will go to the program that you identified with this letter.
When this feature is selected the following window appears
<![if !vml]>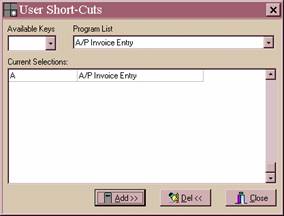 <![endif]>
On the upper left side you will find a drop-down list of available letters and next to it you will find the drop-down list of all the programs that can be selected. In the example above, it is showing A for A/P Invoice Entry program, which means that you can access that program by hitting Alt A.
Select any available key, then any program from the list and then click on the Add tab.
To delete any selected option, highlight it and  click on the Del button or press the Delete key. To close it, click on the Close button.