<![if !vml]>

<![endif]>
Chart of Accounts
This chart of accounts was designed to enter base accounts and also sub-accounts. The option of having sub-accounts can be turned on or off depending on the needs of the customer.
In the multi-company ISIS, select the desired company from the drop-down list that appears on top of the screen
ISIS can handle up to 99 different companies with their own accounting information. These companies have a special way of being created in the system, as they have to be created in the Contact Management System with no more that two-digit numbers.
<![if !vml]>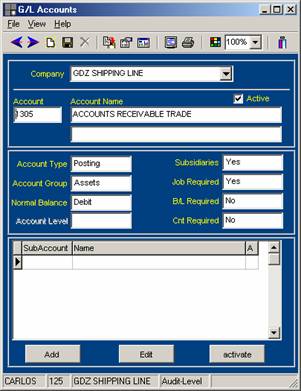 <![endif]>
You can use the icons on top of the screen or the options under File, to move to the next account or the previous one, To create a new account,  to copy the chart of accounts into another company, to view the account balance and to view information through pivot tables. Use the Insert button to create an account in between other accounts
You can also print the chart of accounts, by pressing the respective buttons in the menu or by going to the File menu and selecting the Print/Preview option. Multi-company information can be printed, as well as the Active/Inactive accounts.
You will find the account number and its corresponding description and setup. Here it shows the Account type, whether it is a posting or a header account (header accounts will not accept postings, it only shows totals of the group of accounts under its level ). Then the account group, the normal balance, if it is a Debit or a Credit. The other fields, such as subsidiaries, job required b/L and container required, depend on how the account should behave. If the information is coming from traffic, it must have subsidiaries and job required set to YES. If it is another type of transaction, that does require any voyage information, then these fields may be set to NO. Same applies to Container Required, if it is an account that will be used for Equipment Repairs, then set this field to YES and it will have an impact on the Repair History. You will find further detail in the new account setup